"I was glad when they said to me, "Let us go to the house of the LORD!"
~Psalm 122:1
Thank you for stopping by! Here's a little taste of what you'll find at Knox. Join us for worship each Sunday beginning at 10AM. Donation options can be found under the "Giving" tab.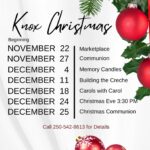 Christmas is Coming!
Check out the "Upcoming" tab for details.
Minister's Welcome